Opened Your Park to Cable TV or WiFi Problems?
‌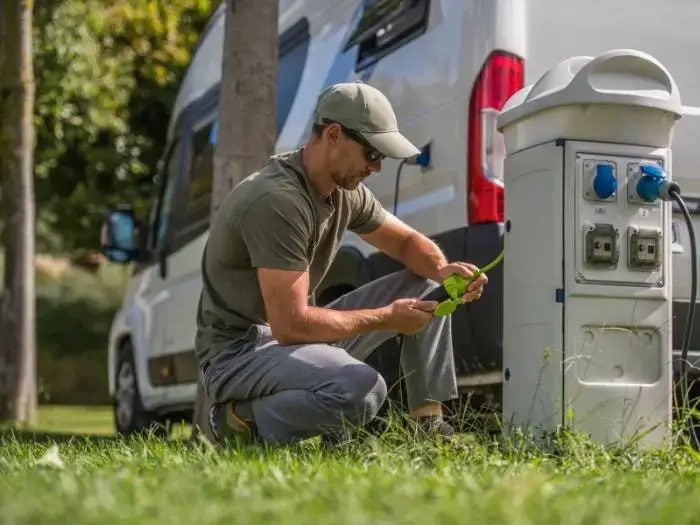 When you first open your park every spring there are issues that have to be addressed after a long sleep over the winter. One that seems to come up every spring is problems with the Cable TV and the Internet / WiFi in RV parks and campgrounds.
The number one cause is putting off maintenance until spring. Then you open and winter weather has added to the issues you already were facing.
‌
Some Questions About Your TV System That We Fix
Has weather caused problems with cabling in your park? Flooding? Freezing?
Are your campers experiencing pixelation on their TVs or loss of signal strength in some spaces? Are all TV channels available to all your campers? Some sites not getting signal or getting weak signal?
Have you noticed cabling in your park that needs repair because campers ran over it or animals gnawed it?
Has water caused damage to the cabling going to electrical pedestals in your park?
Are there splitters or taps that are causing a loss of signal and need replacing?
We find and can fix all those problems.
‌
What a Cable Plant Wellness Check Does To Help You Provide Your Campers With The Best TV System!
Our Cable Plant Wellness Check is a complete system evaluation of your cable TV infrastructure and system. From the TV System headend (that is the rack full of equipment in your office building) through every wire, splitter, and tap to the connections at the pedestals at each campsite. We check your satellite or cable TV signal distribution from end to end.
Often we find parks may have a great signal at camp sites close to the TV system headend, but the further away the camp site is, the more the cable TV signal degrades or even outright disappears. When this is a problem with the TV signal in your park, we find it and fix it.
‌
Who owns your infrastructure
In many cases it's the cable company, not the RV park or campground, that owns the cable TV infrastructure, the actual cabling or wiring in the ground.
When it comes time to upgrade your cable plant, you could be at the mercy of the cable company if they own that cabling!
We will provide you with a letter from an industry expert attorney that you can send to your cable company to find out exactly who owns your infrastructure and determine how you can take back control.
‌
Worse Yet, Is the Cable Company Requiring You to Use Converter Boxes?
In the last few years, Cable companies have made a switch to 100% digital TV signal that requires RV Parks and Campgrounds to provide a set top box to each camper or for campers to have the newest TVs.
Do ALL of your campers have the latest smart TVs? If not, you will need to provide those converter boxes for them to get TV in your park.
Part of the reason to have a Cable Plant Wellness Check is to see if your cabling plant is capable of carrying the digital signals to every space in your park.
To upgrade to digital you need to have a great cabling plant in the ground from the headend to the camp site or you will be dealing with angry campers that won't be able to see their favorite shows. In our cable plant checkup we find those problems you can't even see, whether they are underground or simply a bad tap or splitter.
‌
Yes, You CAN get a TV System that doesn't require Converter Boxes
We have systems available that do not require a set top box. Your campers will get a strong signal at every campsite and regardless of what type of TV they have.
We even have TV systems for RV Parks and Campgrounds that don't require cabling in the ground at all. Live TV is streamed through your WiFi and your campers and employees can watch it on any internet connected device. Smart TV, laptop, tablet, or smartphone. Plus, you don't have to worry about lag on your WiFi, even during peak hours.
‌
How is Your Internet and WiFi Working?
Recent surveys from KOA and ARVC show that 80% of campers choose a park based on WiFi availability and 50% of your campers work while camping, so fast internet access and WiFi with great park coverage is not just a nice amenity, its a necessity.
Do you provide broadband speed internet access?
Is your Wi-Fi strong throughout your park?
How many complaints are you getting this spring from campers about lost signal on the wifi?
Do you have areas of your park that are dead zones?
We can provide guaranteed speed true broadband internet access and WiFi with 100% park coverage, regardless of park topology or size.
Testing your internet and wifi is part of our cable plant wellness check.
‌
Are you ready to schedule your cable plant wellness check?
Call 800-951-1979 today