RV and Campground Industry –
Leader Interviews
Brian Schaeffer – TACO

This is the first in a series of interviews by RVParkTV.com with RV and Campground industry leaders about the subjects that are critical for your success.
We pose questions to those leaders and experienced park owners that you have told us are important to you when we have met at the many industry association conferences around the country.
---
1st up is Brian Schaeffer, Executive Director and CEO of the Texas Association of Campground Owners (TACO) and President of Texas Advertising.
Brian has been involved in the RV and Campground industry for the past 30 years
RVParkTV.com, It was a pleasure talking to you last week. We really appreciate your continued support of the industry and specifically TACO. Below are the answers to your questions that you posed.
Brian, You have been in this industry so long. What is the #1 thing you wish you knew when you started out in this industry?
How important relationships are. The #1 source of business for any park is repeat and referral business and that is really true of any business.
When you are asked by prospective and new park owners, what is the #1 thing you tell them that every park owner needs to do to market their park effectively today?
Offer a nice amenity package and exceptional customer service. You only have one chance to make a good first impression and repeat / referral business will always be your #1 source of business.
Brian, I have been in the business of installing the (latest and greatest) in TV Systems, Broadband Internet, and Wi-Fi networks for parks across the country for over 25 years now. When we started out, most TV was over the air and picked up by an antenna on the RV and park owners really didn't have to do anything to provide TV to campers. Then we saw the rise of cable and satellite TV and park owners had to lay cable in their parks and provide connections for the campers. Today it has gotten more complex and cable companies are requiring set top boxes to connect to the new digital TV programming.
What do you think about all the changes in how TV is delivered to campers today including streaming TV over Wi-Fi?
It is imperative that parks offer a strong Wi-Fi package. Whether they are catering to transient guests or extended stay guests, everyone's priority these days is staying connected. It could be a Zoom call to family and friends or catching an episode of their favorite series or watching the BIG game.
Studies are showing that the #1 amenity that campers are asking for is a quality internet connection. How do you feel about the rising importance of wi-fi for campgrounds?
It is no longer an option, it's a necessity. Some campers are interested in the recreational value of the internet, and some require a solid connection for work which has become increasingly mobile. Not having solid Wi-Fi is definitely a disadvantage.
Looking forward to seeing you at the TACO Show!
For more information about the Texas Association of Campground Owners (TACO)
You can get in touch with Brian at the telephone number below
or simply click on the card to go to the TACO website.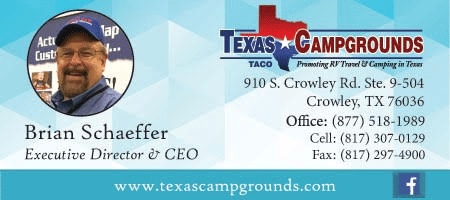 ---
For more information about TV Systems and WiFi
for Your RV Park or Campground
Call 800-951-1979 Today

Mention this article and receive up to $1000 off on TV programming